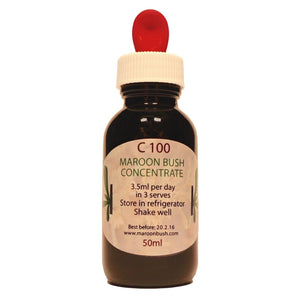 maroonbush
Maroon Bush Tea Concentrate Bottles
Sale price Price $88.00 Regular price Unit price / per
Maroon Bush Tea Bottles
These bottles come in boxes of 2, so you can order 2 bottles, 4 bottles or 6 bottles.
*Please note: for shipping outside Australia, there may be import taxes you are responsible for. For orders within Australia, tax is included in the price.
The Maroon Bush tea (Scaevola Spinescens or currant plant) natural herbal remedy condensed into the easiest and most convenient use form, a dropper bottle 115mm x 37mm. These tincture bottles contain a strong and condensed form of the Maroon Current bush.
The tea concentrate bottles are brewed using pure rainwater and distillation takes place over very low heat to keep the tea as natural as possible. The bottles are then filled and sealed heated.
Each bottle contains tea from well over 6 litres of normal tea.
The suggested serving size is 3.5 ml per day. The dropper in the bottle will hold 1 ml when full to the base of the rubber. View Usage Instructions Here and State Restrictions

Based on our suggested serving size, each bottle is designed to provide tea for about about 2 weeks.
We recommend refrigeration after opening.
Traditional uses based on people's experience: Boost immune system, aid in fighting the flu, colds, infections, natural cancer treatment and diabetes, intestinal trouble, urinary problems, kidney issues, motion or sea sickness, and general illnesses. 
Disclaimer: Please understand that each person's experience with Maroon bush tea is different and we cannot guarantee individual results. This is not a medical product and we make no claims that it will heal or treat any medical issue or disease. Positive results are based on traditional use and anecdotal reports and feedback and are not to be taken as medical advice or claims that bush tea will work for you.